Boom! We're starting week 3 off with a big ol' progress report on exactly what we have implemented coming into the third week of working with Baxter and what we are going to get done by the end of the week.
Let's start this whole thing with a youtube video summarizing Baxter's current capabilites when it come to coproduction of the Ikea Maskros Lamp.
---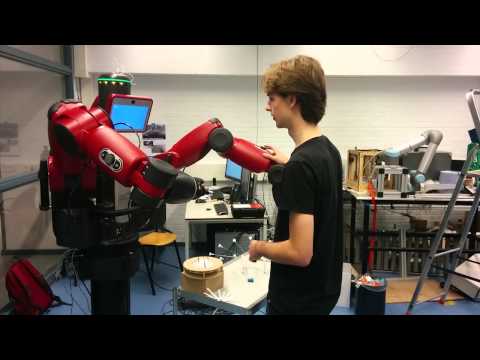 ---
So, what are we getting done by the end of the week?
1. Improving the user interface.
The current implementation of the user interface is still being tested and is not fully complete, however by the end of the week we hope to have something similar to the following UI for the steps of assembling the lamp.
This imgur album shows the UI and lets you go through the steps.
The challenge will be combining the user interface with logical controls and pushing as much of the "oh, remember what step we're on" work to the robot. This parlays nicely into our next goal.
2. Implement the following finite state machine.
This is a pretty large flow chart, but it essentially lists every possible state of our robot and how the user gets from one to the other. Implementing this will not only ensure that our robot is programed to be able to do all of the steps (step numbers in flow chart refer to steps on the aforementioned UI) but also give our user input interface (the buttons found on baxter's wrists and forearms) wonderful consistency.
3. Testing, testing, testing.
Once the previous steps get implemented, we will be able to have a human and Baxter work together to build a lamp. But we will need to make sure this can happen repeatedly and it simple enough that the average person from off of the street could do it as well. For this we are going to need to test at least the following things.
How well does Baxter pick up flower petals (repeatedly, in different scenarios) and how easy it is for people to teach baxter a new pick up location.
How usable our user interface is (size, language, controls).
Ease of assembling the entire lamp with Baxter (Does he move too slow? Is the lamp held in a comfortable place?).